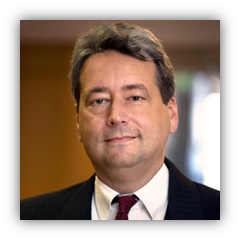 David Ross est le gérant américain de l'équipe Global de la Financière de l'Echiquier
(Pour relire la lettre de David Ross avant les élections, cliquez ici)
Mes chers compatriotes,
La France en a (enfin) fini de son élection présidentielle. Pour vous comme pour moi, celle-ci a parfois été difficile à suivre, les Français utilisant un système désarmant de simplicité grâce auquel le candidat ayant reçu le plus de voix…est effectivement élu.

Chez nous, comme vous le savez, il existe un Collège électoral dont la seule fonction est de s'assurer que le perdant d'une élection continue d'avoir le maximum de chances d'être élu in fine. Ce système fonctionne plutôt bien, puisque deux des cinq dernières élections ont été remportées par le perdant au nombre de voix. Cela nous donne un ratio de 40% : les vainqueurs sont donc effectivement élus 60% du temps. Tout cela me semble bien plus juste que le système français, par lequel le véritable vainqueur l'emporte dans 100% des cas.
Mais revenons à la France. La plupart d'entre vous n'ayant probablement qu'une compréhension limitée de la différence entre Macron et macaron, vous êtes sans doute un peu hésitants à expliquer l'enchaînement des faits. Laissez-moi donc vous aider à mieux comprendre ce qu'il s'est passé.
Le premier tour a opposé 11 candidats et seulement permis de déterminer les deux finalistes : un gentil garçon (Emmanuel Macron) et une dame…moins gentille (Marine Le Pen). A l'instar de tout bon scénario Disney, le Bien a fini par triompher et la morale est sauve. En réalité, il a gagné par un écart si important que Donald Trump, qui avait pourtant affiché sa préférence pour la candidate du Front National, a bien été obligé de féliciter Emmanuel Macron pour sa « large victoire ». Madame Le Pen, même défaite de façon très nette, a défendu son bilan et son résultat avec force. A tel point qu'elle envisage de changer le nom de son parti. Si vous voulez mon avis, d'autres scénarios à la Disney sont d'ores et déjà dans les tuyaux : rendez-vous en 2022.
A présent, nombreux sont ceux qui craignent qu'Emmanuel Macron se prépare à des jours difficiles. Et c'est vrai, il n'a jamais été élu auparavant. Je ne suis pas de ceux-là : ce jeune homme va recevoir énormément d'aide au cours des jours et semaines à venir – plus que ce dont il aura besoin.
Et les marchés dans tout ça ? Soulagés, ils nous ont gratifié d'un rallye majeur entre les deux tours de scrutin, à la fois sur l'euro et sur les marchés boursiers européens. Mais dans un schéma très classique – « buy the rumour, sell the news » –, ce rallye a pris fin sitôt la victoire de Macron annoncée.
Bien que les marchés puissent de nouveau se montrer attentistes le mois prochain avec les élections britanniques du 8 juin et les élections législatives françaises des 11 et 18 juin, la bonne nouvelle à plus long terme est que les résultats sont là : 70% des entreprises américaines ont publié les leurs, et il ressort que près de 80% d'entre elles ont dépassé les prévisions (déjà élevées) de bénéfices par action (BPA). La croissance globale des BPA de 12,5% et celle du chiffre d'affaires de 7,5% sont les plus élevées depuis cinq ans, ce qui valide la hausse des marchés au cours des six derniers mois.
Encore mieux pour les marchés boursiers mondiaux : d'autres grandes régions du monde – l'Europe, le Japon et les marchés émergents – présentent également une croissance à deux chiffres dans le cadre d'une reprise mondiale synchronisée.
« En Marche », c'est bien le mot !