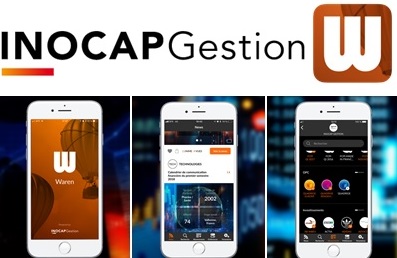 Découverte de l'outil Waren avec Olivier Bourdelas, Président d'Inocap Gestion


H24 : En quoi votre solution digitale est novatrice ?
Olivier Bourdelas : Waren est la 1ère solution digitale en mobilité de la gestion d'actifs en France, à usage B to B et B to C, offrant aux épargnants et conseillers financiers transparence et proximité avec leurs investissements.
Les utilisateurs peuvent créer et recevoir, où qu'ils soient, leurs flux d'information sur-mesure sur les entreprises, les fonds et les collaborateurs qui accompagnent leurs investissements.
H24 : Vous qualifiez cet outil comme une « solution digitale en mobilité ». Comment l'avez-vous développé ?
Olivier Bourdelas : Très simplement et très méthodiquement.
En amont, j'ai mené avec mes équipes une réflexion autour de l'expérience utilisateur. Nous ne voulions pas une simple réplication du site Internet. La difficulté résidait dans le fait de créer un environnement facile d'utilisation, inspiré des meilleures pratiques des réseaux sociaux, pour offrir une expérience inédite dans notre domaine d'activité qu'est la gestion d'actifs.

Dès juin 2017, j'ai mis en place un groupe de travail interne auquel j'ai adjoint l'expertise de Sylvain Morgaine, un consultant externe qui nous a aidé à exprimer et à structurer notre besoin.
Notre objectif étant de rapprocher les épargnants et les professionnels de l'investissement de l'économie réelle, en offrant un lien entre les PME/ETI dont Inocap Gestion est actionnaire et les utilisateurs de Waren.
H24 : Quelle est la nature du partenariat avec Generali Patrimoine sur ce projet ?

Olivier Bourdelas : Nous voulions avoir des retours de professionnels reconnus sur l'expérience digitale client et avons présenté Waren à Generali, un des pionniers de la digitalisation de l'épargne en France.

Ils ont apprécié cette démarche de transparence et de personnalisation de l'information financière, qui va dans le bon sens avec le contexte réglementaire que l'on connait.
A l'aune de MIF2, PRIIPS et des enjeux de digitalisation, cette solution permettra un véritable passage de documents d'information figés périodiques difficiles d'accès à des flux vivants personnalisables et continus.
Inocap Gestion a donc logiquement décidé de s'associer à Generali Patrimoine pour le lancement de Waren.
H24 : Comme Generali, de plus en plus d'acteurs mettent en avant la digitalisation de leurs outils mais ce n'était jusqu'à présent pas le cas pour Inocap Gestion…

Olivier Bourdelas : En effet, nous n'avions jamais pris la parole à ce sujet.
Mais nous avions toutefois de grandes ambitions que nous avons su garder confidentielles.
Nous avons fêté les 10 ans d'Inocap Gestion il y a quelques semaines et je ne pensais pas pouvoir entrer dans une nouvelle décennie sans digitaliser la société.
Avec Waren, vous n'aurez jamais eu autant de valeurs entre vos mains !
Pour en savoir plus sur Waren et les fonds Inocap Gestion, cliquez ici.